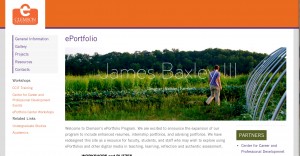 Next Tuesday, March 3rd, TRU will be hosting Dr. Gail Ring, Director of the
ePortfolio Program at Clemson University
.
If this is of interest, we hope you will join us in the TRUSU Boardroom (CAC) at 1:00 PM. Everyone is welcome. Dr. Ring will be presenting on "Moving from Assessment of Learning to Assessment For Learning using ePortfolios":
Over the years a tension has been building in the ePortfolio community related to the idea of using ePortfolios to support the assessment goals of a university as well as the learning goals of students and faculty. I believe that when designed and implemented thoughtfully and purposefully, ePortfolios have the potential to engage students and faculty more deeply in the learning process while contributing to an institution assessment plan that promotes continuous improvement. In this talk I will discuss the strategies for implementing ePortfolios into an institution that leverages student-centered affordances such as ownership of the learning process, creativity, and life-long, life-wide learning to create a culture of continuous improvement. Doing so will help students gain a richer understanding of the connections between their lives, education, and paths to knowledge while providing the university a richer picture of student learning.
With so many of our intrepid You Show-ers have done such fantastic work honing their portfolios, we are hoping this will be a unique opportunity to dig a little deeper into the practice.