The Brief:
Now that you have been blogging and practicing using visual and audio media, let's return to our original intent to create an online portfolio or a project web site. In this unit we will break out of the chronological front page display of posts to turn the front door of your site into a landing spot and start thinking about the best structures that support your purpose.

Originally we intended to introduce a unit on video editing but have decided not to directly focus on video. If you do have an interest, we provide suggested resources and assignment ideas that might fit your site. If you would like some individual support on video, our team is standing by.
The Roughcut
After a week off and time spent with consultants, Brian and Alan return with a new format, set, and a better video crew. In this episode they review some of the best work from last week and introduce the ideas for Unit 5
Event List
As You Show participants are working on different aspects of their sites, we are not scheduling any presentation type sessions. We are however, available for individual drop ins and office calls. Just let us know what you need help with.
These are offerings we are tentatively putting out there for this week and next. They will try to be screen captured for later entertainment educational purposes:
The Breakdown Sheets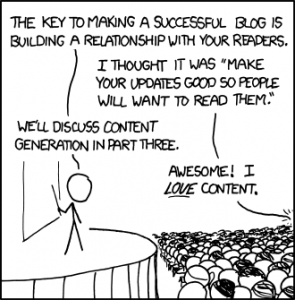 Open the sheet for suggested activities to work on for this unit, to help shape your blog into a site and look critically at the theme/layout for ways to make it less blog-like.
We strongly encourage you to keep blogging on your process. If you are looking for things to help you practice writing consider thinking about ideas you are intrigued by as you read articles, books, web sites, listening to podcasts, even watching movies (I got a great idea about our relationship to machines by watching the robot in the 1956 classic Forbidden Planet).
Or make an effort to do and publish to your blog some effort with the ongoing Daily Challenges.
This is a concept described as structured serendipity, where you deliberately read or pay attention to information sources outside your normal interest range:
More recently, research in Mark Jung-Beeman's lab at Northwestern has found that sudden bursts of insight — the Aha! or Eureka! moment — comes when brain activity abruptly shifts its focus. The almost ecstatic sense that makes us cry "I see!" appears to come when the brain is able to shunt aside immediate or familiar visual inputs.

That may explain why so many of us close our eyes (often unwittingly) just before we exclaim "I see!" It also suggests, at least to me, that creativity can be enhanced deliberately through environmental variation. Two techniques seem promising: varying what you learn and varying where you learn it. I try each week to read a scientific paper in a field that is new to me — and to read it in a different place.
Making Your Blog Not Look Like a Blog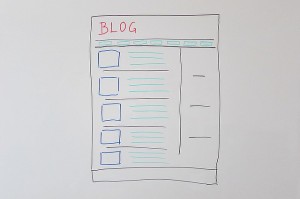 This is what most blogs end up looking like, a list of posts, and then post, post, post, post…
For a project or a portfolio site, we generally want to have a more simple and understandable landing page, or something that organizes your artifacts in another mode than chronology. In the sheet below are some suggestions for going beyond the blog layout. This includes suggestions for different themes to try as well as for WordPress how to create a static front landing page.
We are not telling you that you must change your theme; but just try considering what some other themes might offer in terms of the way they organize your site.
If You are Looking for Video Tips…
We do not have a channel lined up but we have some affiliate resources to send you on your way
You Show Units