In the video that introduces Unit 2 we emphasize the topics covered that week, especially the use of photographs.
As part of the evolving opening credits, the design went photographic, with the title just in text (using iMovie animated text) over one of my photos of Mount Paul in Kamloops. The narration was talking about these photos as if we had hiked recently.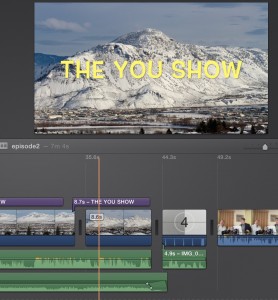 The audio tracks include our recorded audio (again iTalk on my iPad) over top the music Brian selected from the Free Music Archive, the Bran Flakes Incorrect Music Theme (Remix) (is that title appropriate or what?)
I had somehow lost the countdown voice of Harry (it was part of the video in Episode 0). It dawned on me it was in the video, so I pulled that tiny amount of the first video where Harry spoke, then use the Clip -> Separate Audio option to make the audio track independent of the video. That way, I could move that small bit of audio, and delete the video it as attached to.
The films set for Episode 2 returned to Brian's apartment, but we made the "front stage" his dining room table, which I set up a bunch of camera. I found a better balance for the iPad atop a high bar seat; it has a curved base which bade it easier to prop up vertical. The window provided better natural light than our first video: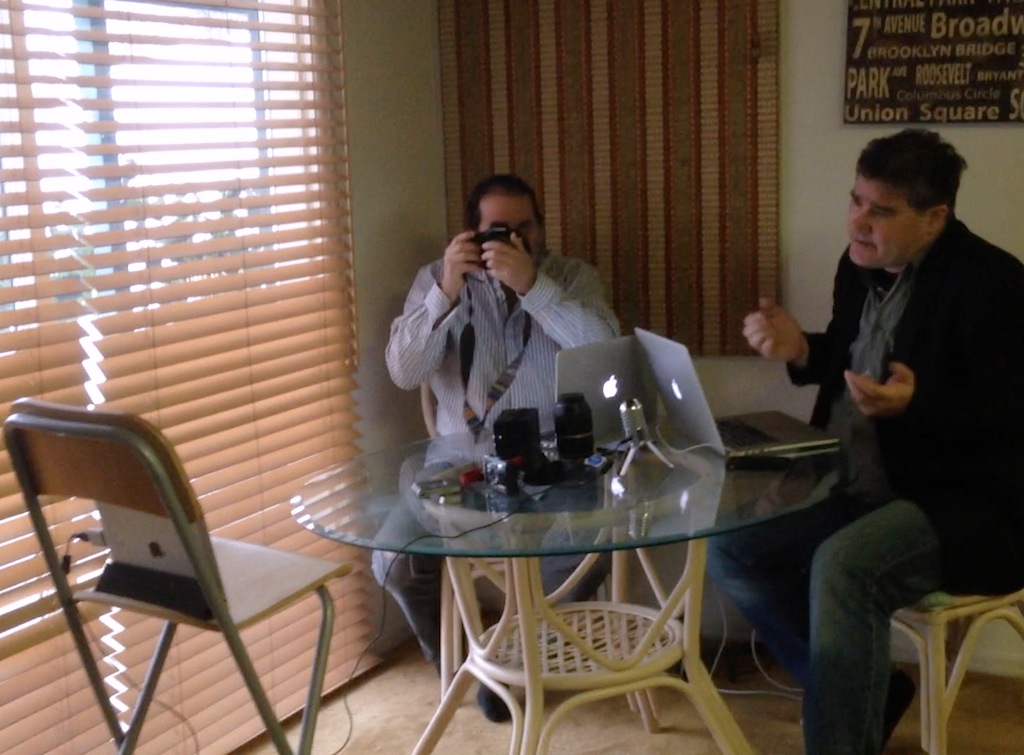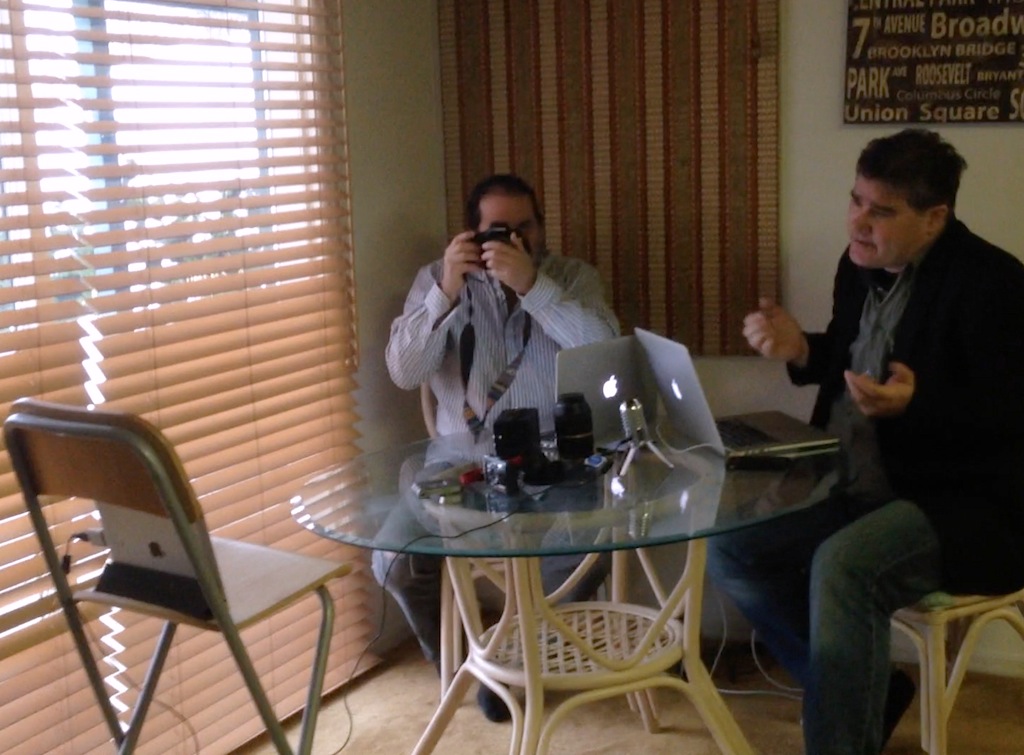 Harry was again the second cameraman, using my iPhone to get some footage of us at side angle to get some short cutaways. I use this in the overlay track, set as cutaway.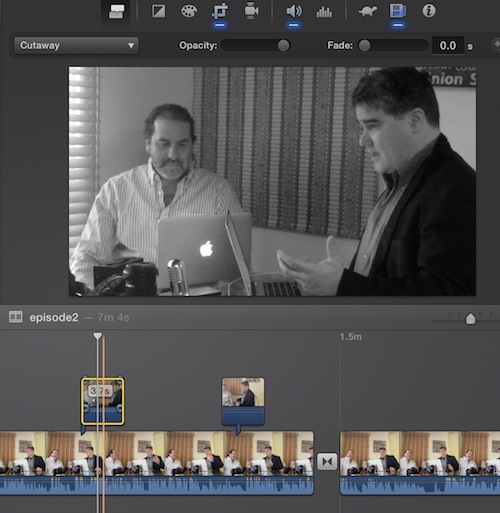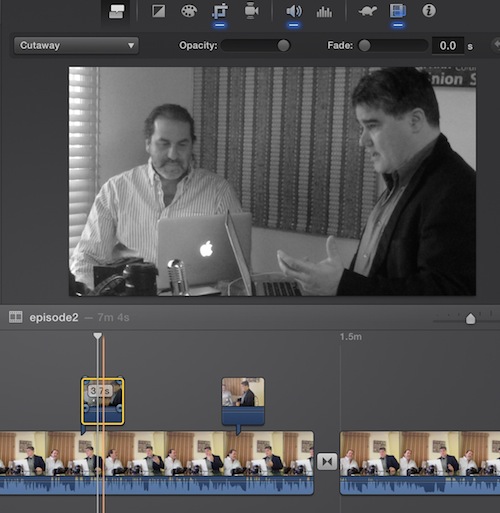 The trick is getting it to sync to the primary, where the audio is playing from (I mute the audio on the overlay video), and I put the second camera in black and white… for some reason. I asked Harry to make short segments (because my iPhone fills up with video), but I should have asked him to do a bit more.
We had less time to review the script for this episode (available as google doc). We both realized that this script was a bit more written out than usual, and so we ended up actually doing 2 or 3 takes and a few redos. Plus, we thought it was clever to have our laptops open.
For fun, I also referred to the Canon DSLR as Brian's "big fancy camera" when its mine.
We actually film the bits that come after the techie sequence since we are already in wardrobe. It's an editing thing to figure out where to break the segments. And we get a bit more nutty with the wild "gesticulating" that gets used as footage the techie guys have on their screen.
Lesson learned is that our "scripts" work better as a rough outline of essentials, as Brian and I do well to improvise. But we made use of that when we shifted to the "techie" scene, by having the back room guys make fun of the hosts because they are looking at their screens.
For this portion, we used again the small utility closet in Brian's apartment- it really works well for its harsh lighting, open beams, and hanging wires.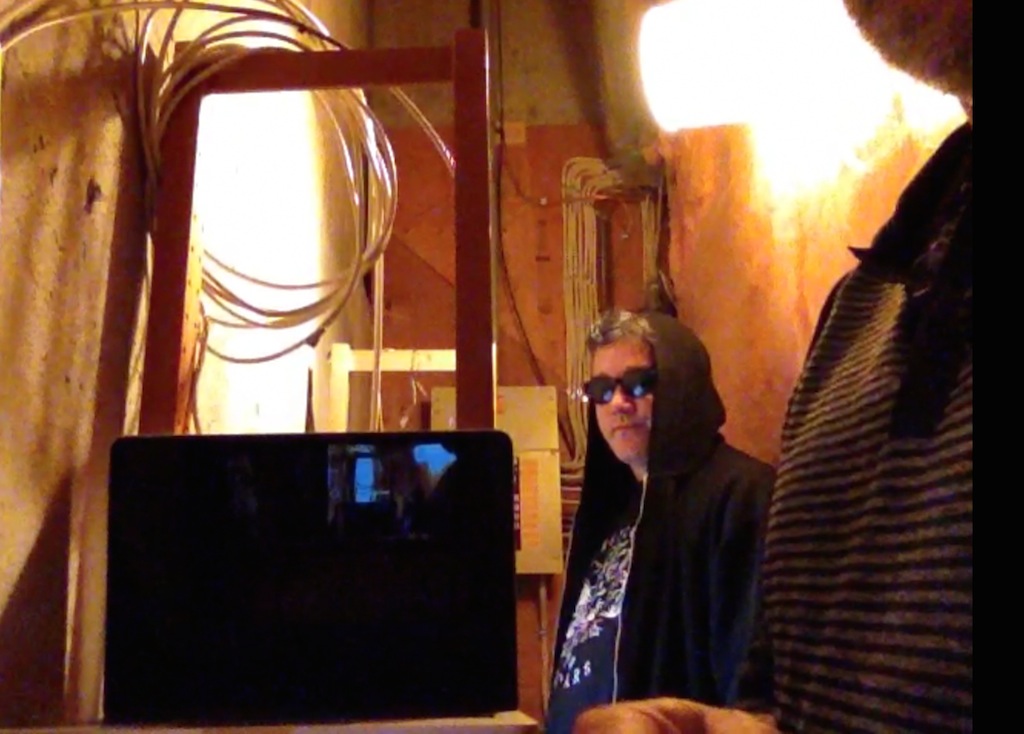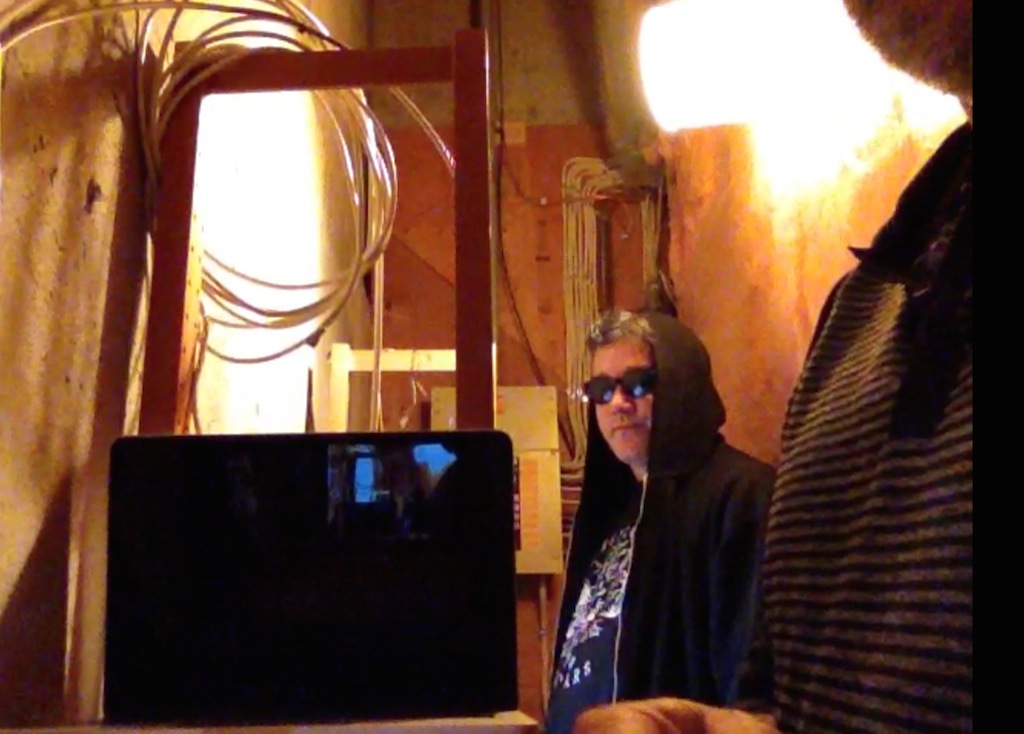 The iPad used to film is aimed directly at the open laptop, which you can see it in the reflection. This does not matter since in editing, I use the picture in picture effect to place the video of the front stage sequence on the laptop, as if it was a monitor.
We actually have Brian's laptop open behind, with our script open, you just cannot see it. But you can probably see us looking at it. This is what happens when you get low scale actors.
It's also in our plan to have the techie guys evolve too, they should eventually develop some respect for the hosts, so here they say positive things about the photos.
We also realized after doing the opening sequence we never mentioned Creative Commons. It was Brian's idea to cover for that by having the techies talk about how the hosts probably do not even know what it is, that they think it is "Creative Communists".
When the scene shifts back to the hosts, they are talking about going for a photo walk. We went outside to a hill at the end of Brian;'s street, and Harry did the hand held footage with my iPhone. The idea was just a quick close, where we re-iterate the line about "Creative Communists" (we are still a bit of a pair of buffoons), and then we go off as if we are on photo shoot.
I took this great photo of Brian while Harry was filming, and it shows up at the closing credits.
Again, this was not much more than an hour of acquiring the video. Editing? Well that might have been about two or more hours.
But that is fun.
As You Show-ers will find out in Weeks 7 and 8.
We expanded our film sets to three locales 😉
And there is something really outlandish already in play for Episode 3, there will be some kind of transmission travel across space and time.